Daily Life Journals Through Scripture
Do you practice the daily discipline of reading God's Word? Not only are we hopeful you are finding that quality time with the Lord, we have a journaling tool that will help you make the most of it. First Baptist has adopted a great way for you to observe and apply what you are reading daily in a way that can change your life and magnify your reading time.The following are the general instructions for doing your daily S.O.A.P. journaling.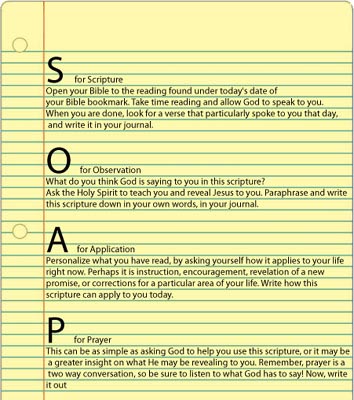 You can get now get connected weekly in a
men's, women's or couple's S.O.A.P. Group and share what we are
learning together. Join us on campus Wednesday nights at 7:00 pm
or any of our Connection Groups throughout the week.
See our group list now and plug in!

For more information contact: