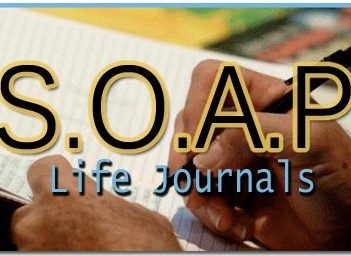 We use
BibleStudyTools.com
to post our daily reading passages.
Also Available for study is the
Life Way Web Reader and Mobile App
. Use this app to take your S.O.A.Ps with you on the GO!
October 27 – November 1: The Perfect Offering
Main Passage for November 2 – Hebrews 9:11-15 HCSB

M Hebrews 9:11
T Hebrews 9:12
W Hebrews 9:13
TH Hebrews 9:14
F Hebrews 9:15
S Phil. 2:5-11

Memory Verse: Hebrews 9:15
Therefore, He is the mediator of a new covenant, so that those who are called might receive the promise of the eternal inheritance, because a death has taken place for redemption from the transgressions committed under the first covenant.



November 3 – November 8: Faith Defined
Main Passage for November 9 – Hebrews 11:1-7 HCSB

M Hebrews 11:1-2
T Hebrews 11:3
W Hebrews 11:4
TH Hebrews 11:5
F Hebrews 11:6
S Hebrews 11:7

Memory Verse: Hebrews 11:6
Now without faith it is impossible to please God, for the one who draws near to Him must believe that He exists and rewards those who seek Him.



November 10 – November 15: The Discipline of Suffering
Main Passage for November 16 – Hebrews 12:1-13 HCSB

M Hebrews 12:1
T Hebrews 12:2-3
W Hebrews 12:4
TH Hebrews 12:5-6
F Hebrews 12:7
S Hebrews 12:8-13

Memory Verse: Hebrews 12:6
For the Lord disciplines the one He loves and punishes every son He receives.




November 17 – November 22: A New Kind of Community
Main Passage for November 23 – Hebrews 12:18-24 HCSB

M Hebrews 12:18-19
T Hebrews 12:20
W Hebrews 12:21
TH Hebrews 12:22
F Hebrews 12:23
S Hebrews 12:24

Memory Verse: Hebrews 12:28
Therefore, since we are receiving a kingdom that cannot be shaken, let us hold onto grace. By it, we may serve God acceptably, with reverence and awe,




November 24 – November 29: Living Out the Faith
Main Passage for November 30 – Hebrews 13:1-8 HCSB

M Hebrews 13:1
T Hebrews 13:2
W Hebrews 13:3
TH Hebrews 13:4
F Hebrews 13:5-6
S Hebrews 13:7-8

Memory Verse: Hebrews 13:8
Jesus Christ is the same yesterday, today, and forever.