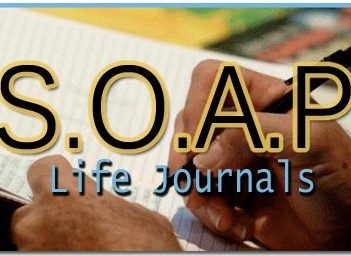 We use
BibleStudyTools.com
to post our daily reading passages.
Also Available for study is the
Life Way Web Reader and Mobile App
. Use this app to take your S.O.A.Ps with you on the GO!
September 29 – October 4: Secured with Confidence
Main Passage for October 5 – Hebrews 4:14-5:6 HCSB

Memory Verse: Hebrews 4:16
Therefore let us approach the throne of grace with boldness, so that we may receive mercy and find grace to help us at the proper time.





October 6 – October 11: Don't Walk Away
Main Passage for October 12 – Hebrews 6:1-8 HCSB

Memory Verse: Hebrews 6:10
For God is not unjust; He will not forget your work and the love you showed for His name when you served the saints – and you continue to serve them.





October 13 – October 18: Only Jesus Saves
Main Passage for October 19 – Hebrews 7:23-28 HCSB

Memory Verse: Hebrews 7:25
Therefore, He is always able to save those who come to God through Him, since He always lives to intercede for them.




October 20 – October 25: Only Jesus Transforms
Main Passage for October 26 – Hebrews 8:1-13 HCSB

Memory Verse: Hebrews 8:12
For I will be merciful to their wrongdoing, and I will never again
remember their sins.