Awana Trunk or Treat Celebration Night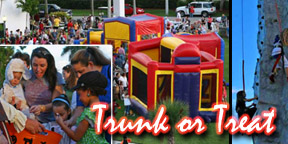 Next Year's Event
Sunday October 26th, 2014
6:00 - 8:00 PM
--------------------------------------------------------------------------------------------------
Trunk or Treat has been a featured Fall event for our church and community since 2004. It provides a safe and fun environment for our children and brings the entire family together on our church property each October.
The AWANA 'Trunk or Treat' Celebration Night! is a reward for the AWANA children who have invited their friends to come to their groups for September and October.

The AWANA program has 80 children currently attending and our goal this year is to double that attendance to 160 during the month of October.

AWANA is the discipleship arm of the church for our children, teaching them Bible verses and application in ministry through evangelism and supporting ministries and events in our church such as: 'The PBSO Community Food Drive,' 'The Giving Tree,' Fair Ministry, Nursing Home Ministry, Men's Ministry Super Bowl Night, and our Community Easter Egg Hunts with a special one for Awana. Children participating in AWANA come to know the Love of Jesus and make decisions to follow Him.

The AWANA 'Trunk or Treat' Celebration Night! is open to the community for attendance for a nominal fee of $10.00 per child with a cap of 20.00 per family. Food items are sold during the event at very reasonable prices. In support of the PBSO Community Food Drive, for every 5 canned goods brought, you will receive a ticket for an item from our concession stand.

Free Admission applies to: Awana and their invited friends, Baby/Little Blessings attendees, and The King's Academy Preschool (TKAP) kids and parents.
-----------------------------------------------------------------------------------------------------------
The size of Trunk or Treat has not changed. We will have all your favorites, such as bounce houses, food, face painting, a 30' high rock climbing wall, dunk tank..and of course tons of candy from our trunk or treat cars.
We also will still need help from our church family to hold this event. Please take a moment to fill out our Online Volunteer Form and sign up now to help make our 2014 Trunk or Treat a great success! It is never too early to make plans for this great community event.
Here is a list of great suggested themes to help you decorate your car and dress up for a clean, fun time with our families. We also encourage your entire connection group to gather and create a fun theme together with multiple cars.