Classes for Babies through 5 year olds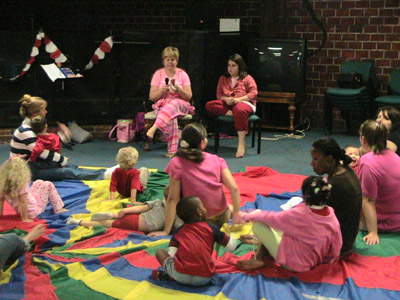 Chrystal leads the Baby/Little Blessings Ministry
One parent writes... "I love Little Blessings because it is a wonderful, Christ centered playgroup where we both get to meet new friends and have fun playing and learning about our Savior. We also love having the church grannies and grandpas there; what special blessings they are!"
Baby/Little Blessings is a Christ centered play group for mommy's, daddy's and their little ones. We use parachutes, bubbles, horsies, musical instruments, stories and many other fun ways to get our imaginative juices flowing. Grandparents are always welcome. We meet each Thursday in the Activity Center:
Baby Blessings (babies to 2 year olds) at 10:00 AM
Little Blessings (3 to 5 year olds) at 11:00 AM
If you are interested in attending this wonderful memory making experience, please call our office at 793-2475 or Ms. Chrystal at 791-7763. We look forward to meeting you and having fun learning about Jesus together!