campus map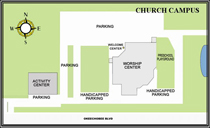 Currently the church campus consists of two main buildings: the Activity Center and the Worship Center. The Activity Center houses the the church offices, as well as a conference room and larger room that is used primarily for our youth department. The Worship Center houses the main auditorium and preschool hall on the first floor, and the Children's Department on the second floor.
10701 Okeechobee Blvd. Royal Palm Beach, FL 33411
We are located at the Eastern entrance of Royal Palm Beach on Okeechobee Blvd. on the North side of the street.
From the East: I-95, Turnpike or SR 441 turn West onto Okeechobee Blvd. and follow to the big welcome sign at the Village of Royal Palm Beach. The church is located on the North side of Wildcat Way across from Royal Palm Beach High School.
From Wellington, Loxahatchee, or the Acreage: Follow to Okeechobee Blvd. Follow East through the Village of Royal Palm Beach. The church is on the North side of Okeechobee approximately .5 mile past Ponce De Leon Dr. and the La Mancha development