baptism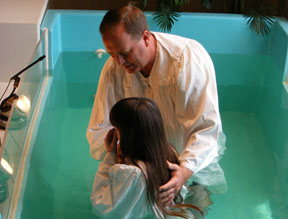 First Baptist Church of Royal Palm Beach celebrates Believer's Baptism. Where you may see some churches practice the baptism of infants, or dedicating them to the parent's faith, we believe Christian baptism is the immersion of a believer in water in the name of the Father, the Son, and the Holy Spirit. It is an act of obedience symbolizing the believer's faith in a crucified, buried, and risen Savior, the believer's death to sin, the burial of the old life, and the resurrection to walk in newness of life in Christ Jesus. This happens when the person can make that special choice on their own behalf, and their relationship with Jesus is genuine and from their heart.

Our staff is always encouraged and excited to meet with new believers, and Christians who may have never been baptized with this modeling of scripture. Our church is honored to take that next step of obedience in your walk of faith.
We encourage you to contact us now. Please
click here
to fill out a form for the next baptism on Sunday.